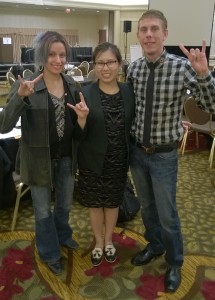 YWC report IATSE YWC Report 2014
Local 205 sent two representatives to the IATSE Young Conference this year.  Sister Cowan and Brother Levin would like to share some of their experience with you.
Did you know?
-21% of IATSE membership is 35 and younger
-Knights of Labor (from which IATSE stems) was an illegal secret society. Union  membership was illegal until the 1930s.
-In 1911 the Yellow Card system was established to protect road hands on tours from being stranded in nowhere, IL.
-1970 saw the first body mics in use on Broadway.
-Wardrobe locals were formed separately under the international because of stage hands who did not want their wives in their unions.
-NATSE was established in 1893 Local numbers were based on the date they joined the Knights of Labor 1898 – + Local 56, Montreal & Local 58, Toronto added an "I" to become IATSE
-There are 13 districts in the international, 1-12 & 14.  New Jersey was district 13, but around the same time 14 (Floriday and Puerto Rico) was added, NJ was merged into 10 with New York.
-"In the lime light" – refers to when a line of lime was laid on the edge of a stage and lit on fire for a show, and it glows green.