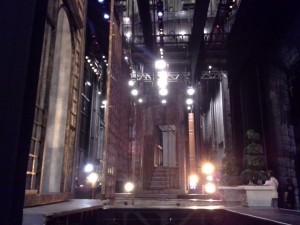 Welcome to my new labor blog. If you don't know me, you can learn all you want at bradleypwilsonliterary.com. This is Stagehand View. I'm not really sure what it's going to be beyond a source of information and commentary on all things worker-related for the stagehands of Austin, Texas (and anybody else who wants to read it).
A disclaimer: In no way do I speak for the other members of the IATSE Local 205 Newsletter Committee, any officer or member of IATSE Local 205, or anyone else for that matter. Anything and everything you read in Stagehand View is entirely my fault.
First up, big happenings at today's regular meeting. Some really good things happened. Unfortunately, one really huge not-good thing happened.
The local elections got cancelled due to errors with the absentee ballots. Sounds like it was a matter of bad wording, bad packaging, and bad timing. Entire races were apparently omitted from the mail-out ballots, the ballot envelopes were printed with voter's addresses and therefore not anonymous, and I guess some didn't even get mailed out in time. Am I the only one hearing Nelson Muntz laugh right now?
I do give full credit to the e-board for their reaction to this fiasco, though. They made the right call in scrapping the whole mess and starting over rather than risking a tainted election.
Just do like me and think of it like it never happened because the election process will start over again with nominations in January. Yay.
Other than that doozie, I'm happy to say
IATSE Local 205 unanimously voted to  endorse Sarah Eckhardt for Travis County Judge in the 2014 Democratic Primary.
Full disclosure, I made the motion to endorse Eckhardt. I'm a big fan of hers, and I encourage you to watch the debate between her and her obviously underqualified opponent.
On another very good note, a big hearty welcome to Garrett Parker, the newest member of IATSE Local 205. Brother Parker took the oath today, and he should make a fine addition to our local.
And the last bit of meeting news I feel like reporting is this:
Our Stewards' Council Chairman, Jim Ford, got a motion passed to help better ensure every member of this local gets a fair break if they ever find themselves in front of a review board. Thanks, Jim.
Hmmm, that's it, I guess. Except to say I'm pretty sure Mikela's going to be posting about today's meeting, too. So look for her take some time soon.
I'm off to un-post the now obsolete candidate responses for the election that never happened. Once more, yay.